A great time was had by all the kids last weekend the bouncy castle kept many entertained whilst others joined in the paint fight with a few more adults being forced to join in this time thanks to Clive. The XYBN kids seemed once again to enjoy their visit.
The lino for the childrens room has been laid which completes the repair work and the room has now been opened for use again. Thank you again to all those involved.
If anyone has any empty washing up liquid bottles can we please have then for our water fights as they are easier to fill and less clearing up than using water bombs.
The hole in the floor has now been fixed thanks to everyone involved. New flooring will be priced up and purchased over the next few weeks, whilst that is happening a clean up and sort out of the other end of the room will take place the more kids to help the better.
Entertainment for the weekend of the 6th June is currently being arranged, as the XYBN kids will be joining us again if you have any ideas please let Clive or myself know.
It was great to see the kids in the pool again having fun and splashing Peter
Sarah
Through out  the year we hold annual children's events like Christmas parties, Easter egg hunts and bouncy castles.
We have the facilities to put on activities to suit all, from mucky and messy like paint fights to the art and crafty.
Occasional visits take place to the cinema and local tourist attractions, which is paid for from the children's fund, which is accumulated by member's generous donations and fund raising events by the kids.
The swimming pool [ 20 feet by 40 feet (12 mtr x 6 mtr) maximum depth 4 feet (120 cms) ] is always a big hit with the kids big and small playing alongside the adults with the beach ball for a game piggy in the middle and the water shooters that's if they manage to get them off the overgrown kids.
TNC is a safe and friendly place for everyone to have fun and enjoy themselves.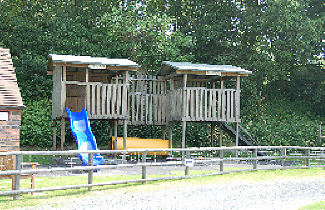 Climbing frame
Children's room with  games, pool and table football